Due to the fact that my thoughts have been all over the place today, this will indeed be a post full of random happenings of my day, happiness, and, perhaps, some music. So, first things first.
Good news
! Being the committed Twitter fiend I am, upon publishing my post about
MTV's
The Buried Life
, I decided to mention the new post in an @reply to the
show's
Twitter page (for all of you wondering how to follow, it's @
theburiedlife
). After routinely checking my Twitter this morning, I realize the wonderful
Buried Life
boys have mention my post to all 1,500 or so of their followers. Exciting, huh? It feels good to know this little page of mine is getting a fair amount of exposure, although it's slightly embarrassing that my little aside about the cast of the show "being insanely attractive" is no longer a secret.
The other portion of my good news is that I have finally,
finally
finished the first chapter of the story I'm writing. I put it down for a few weeks over this break and got back to the keyboard this afternoon, where I was in this state of mind for some 3 hours:
No, the glasses are not prescription but they get me in the right mindset for writing; it's odd, I know. Perhaps after some intense editing next week I'll post the intro of the story!
On the darker, colder side of things, there is a freezing warning for my state starting tomorrow! Not cool, although it will be literally. Of course the local new station is making a
huge
to-do over low temperatures, although this happens every winter,
sigh
. At least my little Pekingese, Lily is prepared with her new sweaters.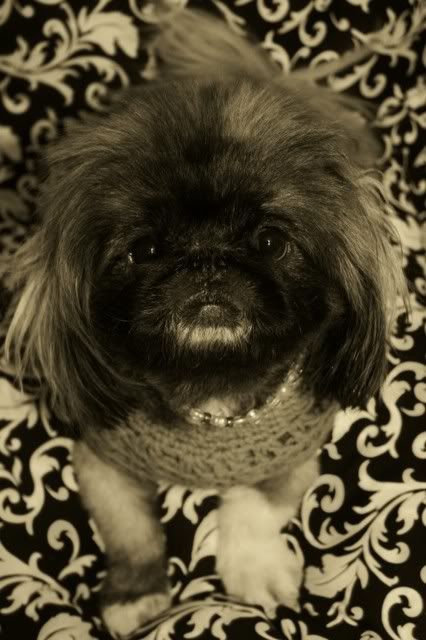 She really
can't
help how adorable she is.
And with this, I leave you with a wintry play list that never fails to make me feel content and
snuggly
no matter how low temperatures drop in the middle of the night. Enjoy!
"It's Warmer In The Basement"- Cobra
Starship
"Beautiful Love"- The Afters
"We've Got Company"-
Civalias
"You Make My Dreams"- Melee
-Lindsay