Every blue moon I find a band I'm completely,
wholeheartedly into. I recently celebrated my 7-year anniversary of loving none other than Maroon 5! Their jazz-infused, sexy pop-rock is something I can listen to everyday and
never
get tired of. Did I mention that their front man, Adam Levine, is practically perfect? Not many men dress exquisitely well these days but, in my opinion, Mr. Levine is a definite exception. Honestly, who else could pull off a simple v-neck, plain white tee and jeans combo better than this? I've never been a fan of tattoos, but they fit into his overall persona perfectly. I cannot tell you fellow bloggers how many times I have pleaded with, begged, and practically bribed my boyfriend of 2 years to ditch his over-worn t-shirt, shorts, and flip flop combo. Alas, he will not budge. While onstage and at events, Levine channels his more sophisticated, European-influenced side. Who else could look this polished in only a vest and scarf, hm?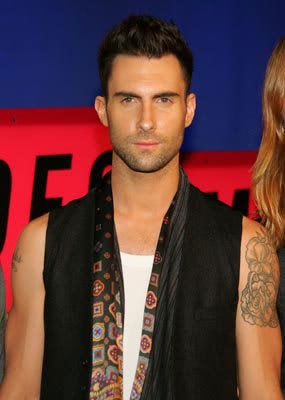 Alright, that's it. I'm done with my little rant over Adam's superior taste in clothing. It's just such a pleasant surprise to stumble upon a guy who actually dresses well and shows a genuine interest in fashion who is heterosexual, hah!
Be sure to check out Maroon 5 on their upcoming college tour this fall! Unfortunately, they won't be playing anywhere remotely near where I go to college, upsetting.
November 2009 Tour Dates
2 - Murray, KY - Murray State University
3 - Louisville, KY - Bellarmine University
6 - Rochester, NY - Rochester Instititute of Technology
8 - Ithaca, NY - Cornell University
10 - Blacksburg, VA - Virginia Tech University
12 - Fairfield, CT - Sacred Heart University
14 - Lewisburg, PA - Bucknell University
16 - Newark, DE - University of Delaware
18 - Peoria, IL - Bradley University
21 - San Angelo, TX - Angelo State University
22 - Wichita, KS - Wichita State University
-Lindsay